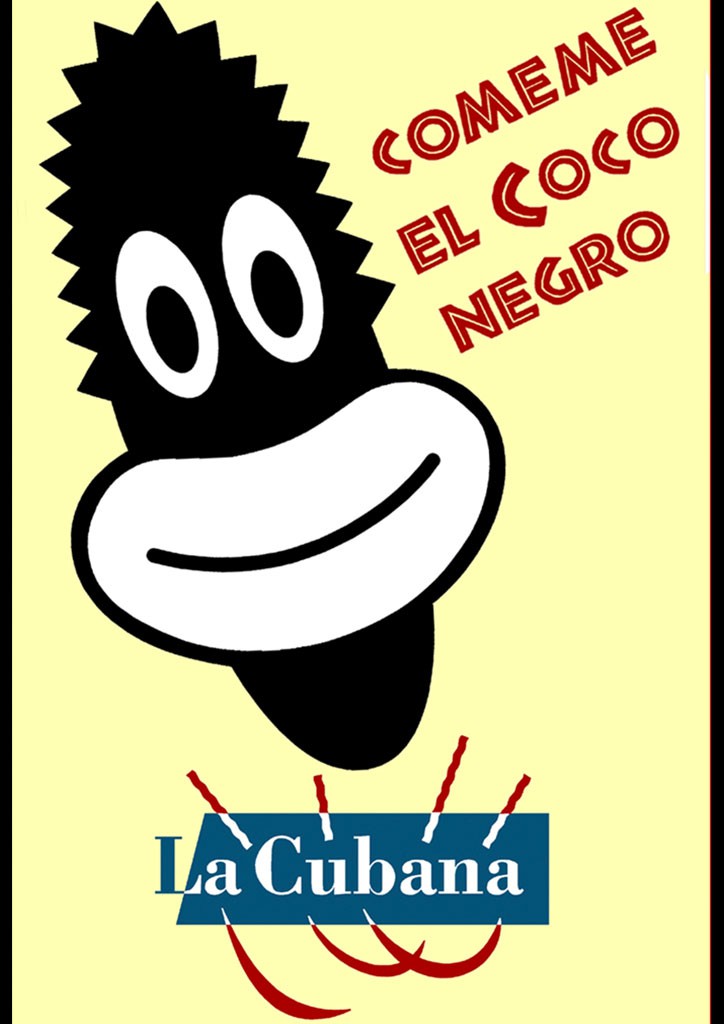 The trilogy
After the Tempest (ending 1987), La Cubana suffered a small crisis. Many actors that quit their conventional jobs to join us in this adventure back in 1983 wished to go back to their old occupations and left the company. Only four of us remained in La Cubana: Mercè Comes, Carme Montornés, Mont Plans and Jordi Milán. We wanted to continue on, but: ¿how? Moreover, ¿doing what?
Obviously, we could not underestimate the aspects that had been decisive for La Cubana as it was. For instance, the experimenting on new adapted spaces for the theatre activity, the portrait and the homage to the daily incidents, the game, the surprise, the street actions, the audience involvement, etc. We enjoyed all of it, we wished for all of it. Well, then the best thing to do was to do it all: increase the range of actions and build a repertoire. To do a Ménage a trois, what was to do three shows that would be different one from the other and ready to be presented in three different places, where La Cubana would be able to do all it enjoyed most: Street theatre, conventional theatre, and above all, an involvement game. Therefore, the trilogy was created containing:
Cubanades a la carta (Cubanades on the menu) (1988) – Street theatre
Cómeme el coco, Negro (Eat my Cocoa, Nigger) (1989) – Drama inside a drama
Cubana, Marathon dancing (1992) – A participation show
IdeaWho in the theatre business has never fantasized with the idea to put on a heavy feather dress and march all the way through a gleaming catwalk. Cómeme el Coco, Negro is a homage to street comedians.
While we were performing The Tempest, once the show was over, we had to dismantle the whole lot and pack it on the truck. Tired and sometimes wet we went up and down, carrying tools and props but every now and again, someone would say something silly and in that case we all laughed and commented: "Right now is when the audience should be watching us!" That is how Cómeme el Coco, Negro was born.
Story lineMusic-Hall street company, called "Teatro Cubano de Revista", formed by actors on the second last step of their career, they are acting in a variety show called Cómeme el Coco, Negro.
Due to a mistake -the performance has started an hour earlier than planned-, the audience realise they are late to the show and just when they are taking their seats, the show finishes. The comedians repeat the last number, as usual, start bowing and the curtain falls. The real show starts here. The company has to pack quickly because they have to travel around 600 Km to get to the next performance. The audience does not want to leave the theatre and thus, they protest. At that point, the comedians begin dismantling at once, and while doing so they start commenting over their intimacy, their secrets and their miseries. They become friends with the spectators and as a consequence the audience starts helping the comedians fold up the curtains, watch over the vedette's dog, collect props and stuff, move boxes around… They are even invited to put on the feathers and to share a mortadella sandwich. Near the end, once everything is packed, the comedians brush the floor and go away, leaving the audience sitting.
Numbers of the Variety "Cómeme el Coco, Negro"
Lentejuelas y sonrisas (Opening)El tirachinas (Modeler)
Una mujer completa (Erotic Striptease)
¡La niña tiene novio! (Comical)
Que viene el coco (Cuplé)
A media luz (Tango)
Romance de la reina Mercedes (Folk song)
Las viuditas (Cuplé)
¡Mi hija se casa con un negro! (Comical)
Valencia (Regional act)
Soy Minero (Spanish song)
Mirame (Cuplé)
Violetas Imperiales (Period song)
El negro viene a cenar (Comical)
Yo soy la vedette (Introducing the vedette)
Quiero volver a Rio (Samba)
Madre comprame un negro (Charleston)
Cómeme el coco, negro (Final apotheosis)
PREMIERE: 3th of June 1989 at Mercat de les Flors, Barcelona.
PLACES WHERE IT HAS BEEN PERFORMED: Sitges, Agramunt, Barcelona, Roda de Ter, Sant Feliu de Llobregat, Vilanova i La Geltrú, Sant Pere de Ribes, Molina de Segura, Gijón, Irún, Albacete, Esparreguera, Hellín, Calafell, Alsasua, Santiago de Compostela, Ribadavia, La Bisbal, Cardedeu, Malgrat, Berga, Llorenç del Penedès, Banyoles, Gelida, Manresa, Vilafranca, Granollers, Santa Coloma de Gramenet, Castellar del Vallès, Logronyo, Manzanares, Torelló, Terrassa, Reus, Lleida, Gandia, Badalona, Balaguer, Igualada, Tàrrega, Figueres, Sabadell, El Vendrell, Madrid, Girona, Cerdanyola, Arenys de Mar, Sant Boi de Llobregat, Súria, Tarragona, Sant Cugat del Vallès, Centelles, Osca, Graus, Fraga, San Sebastián, Pamplona, Platja d'Aro, Andorra, Maó, Berga, Pineda de Mar, Solsona, Sant Joan de les Abadesses, Olot, Palafrugell, Vallirana, Vitòria, Bilbao, Petrel, Elx, Altea, Villena, Almoradí, Alcoi, Onteniente, Bellreguard, Torrelavega, Palma de Mallorca, Cuenca, Guadalajara, Villacañas, Ciudad Real, Socuéllamos, Almodóvar del Campo, Daimiel, Toledo, Almansa, Albacete, València, Fuerteventura, Lanzarote, Tenerife, Las Palmas, Cadis, Puerto Real, Cartagena, Lorca, Almeria, Múrcia, Sevilla, Huelva, Còrdova, La Carolina, Jumilla, Alacant, Gran Casino de Barcelona, La Havana.
PERIOD: 1989-1991
PERFORMANCES: 542
SPECTATORS: more than 531.000 spectators
AUTHOR: Jordi Milán
CAST:
Carme Montornés
Mercè Comes
Mont Plans
Anna Barrachina
Sílvia Aleacar
Miquel Crespi
José Corbacho
Jaume Baucis
Ferran Botifoll
Santi Millán
Xavier Tena
Jordi Milán
DIRECTOR: Jordi Milán
THECNICAL STAFF
Music: Juan de la Prada
Stage design: Castells-Planas (Cardedeu)
Metal structure: Josep Ma. Blancafort
Feathers: Martino
Make-up: Joan Alonso
Wardrobe: La Cubana
Graphics: Raúl Pascuali
Choreography: Leo Quintan
Assistant to Director: Xus Estruch
This is perhaps the one show that has generated more anecdotes of all. We performed it so much and in so many places, that we have been able to collect a good lot. Here go the funniest:
Generally, the anecdote took place due to the premeditated confusion with the programme. Everybody got very annoyed when being informed that they were late, but they really lost it when they sat down to appreciate that they were in fact late. On one occasion, at the Mercat de les Flors Theatre of Barcelona, a gentleman got so annoyed that he stood up and spoke firmly to the audience there, stating that he would see how to take that case to court. Nevertheless, he stayed in to see the show. Finally, he came to the dressing rooms, recognising he had fallen on the trap. He confessed he was a judge and that he had all intentions to grab hold of us.
In the Teatre del Comú of Andorra, Jordi Milán was arrested because an spectator from Andorra sued him. According to the spectator, the character played by Jordi, the manager who liked yelling at people, had offended him when he told him: "You are late-comer and you should care about taking enough time to get to places". According to the spectator, to be told that he was a late-comer was an insult, and as an Andorran as he was, he'll take him to court. At the end, the Mayor was the one who would have to arrest Jordi and the one who hired Jordi at the same time.
At the Calafell Festivities, the show was to take place in a square, in an open air. The audience believed that what they were about to see was a variety show, as every year. They couldn't believe that the City Council would bring such "ugly women". But the situation got worse when we started dismantling the set and left them sitting in the square… We had never been through anything like that. A small part of the audience, shouted angrily, and turn their seats facing backwards while shouting: "We want our money back. We haven't paid to see Francisco having his dinner". Francisco was a neighbour having dinner in shorts on a balcony in front of us.
In Santa Coloma de Gramanet we were hired to perform for elder people. The entrance to the theatre was a drama by itself, since we had to turn the lights on as the elders were tripping over in darkness. The main course came afterwards, when we told them the show was over. The elder, not even blinking, stood up ready to go. The monitors, going mad, told them the contrary. The actors, following the text, told them repeatedly that indeed the show was over; and the elderly stood up once again. Yet again, the monitors told them to sit down, and it went on like that for hours. It was astonishing.
At Victoria Eugenia Theatre of San Sebastian, the stage set of the show had to be dismantled every time. It was Saturday and we had to perform twice that day. We did the first performance early in the evening, and it all went very well. But when we were building the stage again, all the structure collapsed. It was a miracle that no one got hurt. We couldn't fix it. We had to cancel the show. The theatre direction told the audience, but no one believed them. At the end, the director from La Cubana and the whole company decided to step forward to explain what had truly happened. It was horrible; the audience laughed convinced that it was all part of the show. Few hours later there were still many people awaiting at the door entrance.
In La Cubana, we love to celebrate everything. We can have a party out of the blue, and we always end up performing. It has always been that way and it will always be. During these years, we've come up with so much stuff and we keep a good memory from it.
Press conference of Cómeme el coco, Negro in Pamplona (1990)
It was gathered in the La Perla Hotel, where the Superstar Lidia Clavel, is feeling unwell. The other members of The Cuban Variety Show Theatre Company decide to hold the press conference in the bedroom were Lidia is. The journalists went up to her room and sat around her bed. Little by little the press conference got going, and everybody enjoyed it. They eat "xurros" (Spanish sweet pastry) with chocolate.
Farewell party of Cómeme el coco, Negro, in Teatre Capitol of Barcelona (June 1990)
We celebrated it in a very special way. The audience got in, as usually, to see the show. There was nothing special happening on the street. As they got out, they found a table set and ready for 700 people, where they were served "xatonada" (a typical Sitges meal). All together cheered up by the actors, a student minstrel group and an orchestra.
Farewell party of Cómeme el Coco, Negro at Casinos de Catalunya (August 1991)
The tour of Cómeme el coco, Negro finished in Cuba (September, 1991). The farewell to the show in Catalonia took place at Casinos de Catalunya during the summer of 1991. Each night, besides performing Cómeme el coco, Negro, we held a party with fireworks included. Last day of performances, after the show, we gave a party at the Casino's gardens, in St. Pere de Ribes. It had a surprise cake, performances, a dance, dinner, etc