Festa dels 25 anys (La Cubana's 25th Anniversary)
A show was staged at the Teatre Novedades in Barcelona on 30th of January 2006 as part of La Cubana celebration of it's 25th anniversary. At that time, La Cubana was performing Mummy, I want to be famous. The show was divided into three parts:
On the street:

Before entering the theatre people were able to see different acts of Cubana's Delikatessen being performed on the street and in shop windows.
In the theatre:

A special show was performed which featured a complete review of all the plays and tv programs created by La Cubana. Most of the actors who worked for the company appeared on the stage. Aided by a musical and adiovisual background and dressed up in the original costumes, they performed songs and dances from different periods.
In the car park

: The adjoining car park was decorated with different settings and transformed into a huge set for staging a dinner dance for 1.400 people.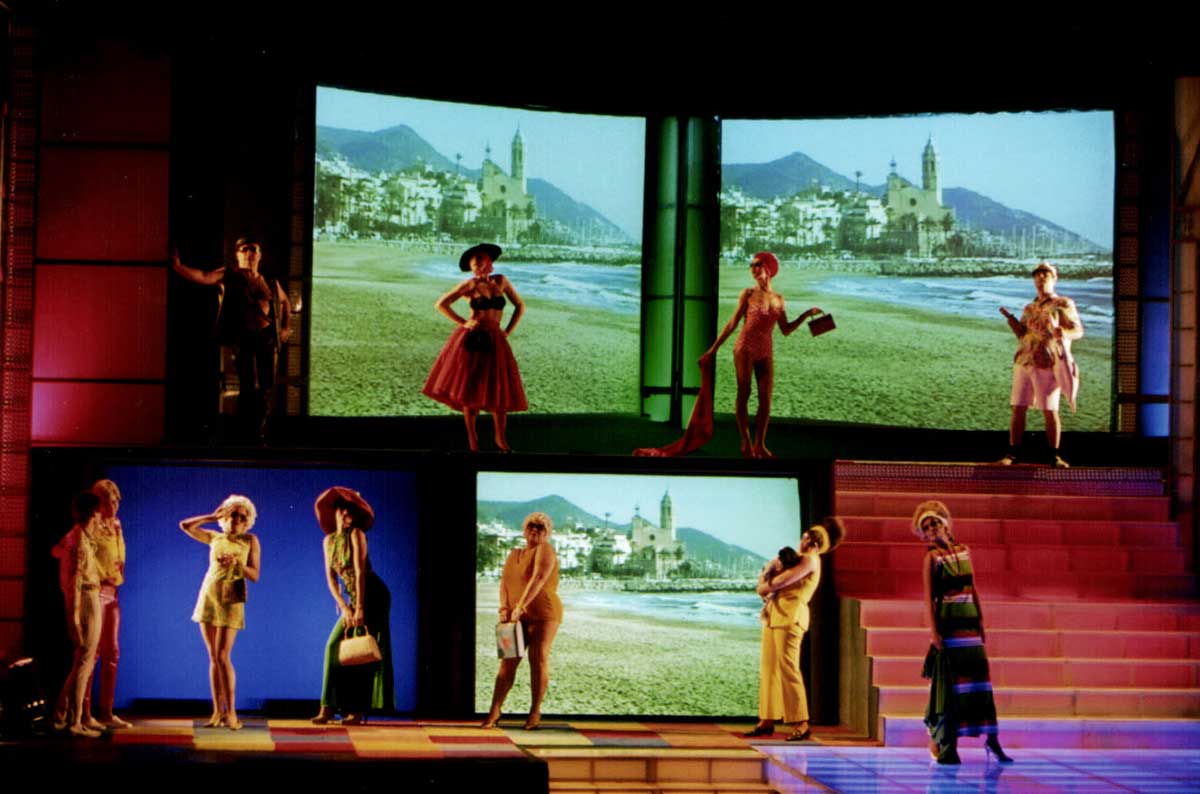 PERFORMANCE: 30th January, 2006
PLACE WHERE IT HAS BEEN PERFORMED: Teatre Novedades de Barcelona
CAST: Marta Acín, Silvia Aleacar, Joan Carles Alegre, Marta Álvarez, Ramon Artigas, Anna Badia, Anna Barrachina, Jaume Baucis, Enric Bautista, Carlos Blanco, Ferran Botifoll, Lioba Calaf, Domingo Calvo, Esther Cámara, Marisol Cardona, Toni Cardona, Josep Castell, Dolors Castells, Richard Collins-Moore, Mercè Comes, Dani Compte, Jose Corbacho, Miquel Crespi, Emília Cruz, Marta Curtiada, Montse Curtiada, Sílvia Dasca, Carlos Díaz, Txell Duró, Manel Erruz, Cinta Esmel, Marilés Esteras, Unai Ezkurra, Eulàlia Feliu, Anna Ferer, David Fernández, Anna Ferrer, Concepció Ferrer, Mercè Ferrer, Concepció Ferrer, Olga Fibla, Maria Garrido, Mercè Gascón, Jordi Genovès, Sebastián Gómez, Meritxell Guardiola, Santi Güell, Mònica Guixens, Genís Hernández, Cora Herrero, Meritxell Huertas, Joan Ibars, Meritxell Ibars, Eli Iranzo, Jeroni Iturat, Pili Jiménez, Neus Junque, David Lanau, Jordi Llobera, Cristina López, Núria López, Carmen Losa, Kim Manning, Ivan Márquez, Jesús Márquez, Maite Marruecos, Filomena Martorell, Peter Matas, Carmeta Milà, Jordi Milán, Josep Milán, Santi Millán, Natalia Morillas, Nani Mulero, Xavi Navarrete, Assumpció Ortet, Vicky Palau, Guillem Peire, Mònica Pérez, Roser Pérez, Carme Peris, David Pintó, Vicky Plana, Mont Plans, Artur Puighibet, Jordi Quintana, Leo Quintana, Jordi Ràfols, David Ramírez, Marta Redondo, Verònica Riera, Alba Robledo, David Rodríguez, Anna Rossell, Jaume Rovira, Laura Ruíz, Montse Ruíz, Francesca Sala, Viqui Sanz, Edu Sentís, Jorge Serrano, Caty Solivellas, Esther Soto, Andrew Stuart Marshall, Laia Tarrasó, Xavi Tena, Carles Torrecillas, Guillem Torres, Toni Torres, Carles Torresillas, Annabel Totussaus, Anna Trillas, Núria Trillo, Ricard Urgell, Ota Vallès, Carol Verano, Marta Vergés, José Villodres, Rebeca Yuste, Caspar. Amb la col·laboració de l'Escola de Grallers de Sitges and Xaranga de la Subur Band.
Creative Staff
Script and direction: Jordi Milán
Music: Joan Vives, Maestro de la Prada, Pal Latorre, J. Padilla, J. A. Prada, Montorio, Moraceda, A. Cortez, Román de San José
Soundtrack assembly: Jordi Agut "Choli"
Video assembly: Llorenç Oliveras (Neovideo), Jordi Milán, Josep Milán
Lights: Guillem Gelabert
Wardrobe: Cristina López
Choreography: Leo Quintana
Hairdressing: Marcel Monlleó, Tito, Enric Zaragoza, Joan Marín
Make-up: César Morcillo, Joan Alonso, Jesús Camacho, Joan Marín
Props: La Cubana
Graphic design: Raúl Pascuali
Sound technician: Jordi Agut "Choli"
Light technician: Guillem Gelabert
Video technician: David Vidal
Stage manager: Tito Lucchetti, Carol Verano, Xavi Roca, Juanjo Sánchez, Iago Utrilla
Direction assistant: Josep Milán, Anna Ullibarri
Executive production: Victòria Sanz
Mechanical props: Toni Valente, Marçal Maixenchs, Sandra Roles, Josep Sendra, Josep Ramon Pallejà, Jordi Fortià, Eric Peyron, Roser Pérez
Coordination Make up: Meritxell Huertas
Coordination Hairdressing: Annabel Totusaus
Coordination Wardrobe: Carmeta Milà, Maria Garrido
Coordination Music and video: Josep Milán
Coordination Props: Xavi Tena, David Pintó, Ota Vallès
Coordination Scenery: Jaume Baucis, Meritxell Duró, Toni Torres, Santi Güell
Parking Technical Staff
Technical Manager: Pere Milán
Montage: La Cubana
Setting: Castells Planas de Cardedeu
Lights: Guillem Gelabert, Oriol Puig, Música Viva
Catering: Matas Argelot
Musical band: Toni Guitar & PETIT CLAN
Acknowledgments:
MoviCine Josep M. Marín
Leo's
Anexa